FGM, Female genital mutilation (Wikipedia article) is truly a horror, and atrocity against women, against men indirectly, and actually against the Creator God.
FGM involves the violent surgical removal of a girl's or woman's clitoris, and other genitalia, often without anesthetic, and completely without the victim's consent.
There is no redeeming value in this, unless disease, such as cancer is involved.
Wikipedia's article, Clitoris, shows that sexual pleasure is the main function of this organ. Photo too.
The picture above, "True Equality," describes this tragic situation very well.
God is loving and good, and all our body parts are in place by his deliberate will and loving purpose.
To rob a woman of her genitalia is a horrible sin and crime.
It is also a serious affront to God and his great purposes in marriage.
In God's great purpose in marriage the TWO become ONE flesh.
Genesis 2:24:
Therefore shall a man leave his father and his mother, and shall cleave unto his wife: and they shall be one flesh.
Mark 10:8 and Ephesians 5:31 reiterated this great, two-become-one, purpose of God.
In love and sexual intercourse between a man and wife mutual comfort, pleasure, and enjoyment are God's intent, purpose, will, and desire.
FGM ruins this.
It is a stupid practice by people who lack understanding of the true God and his good and loving purposes for men and women, and his will and design in marriage.
A knowledgeable woman commentator stated that Islam is institutionalized misogyny.
Most Bible teachers, pastors, etc., are terribly wrong, tragically holding that God has no body and thus no gender.
God IS a spirit WITH a SPIRIT BODY, and he is genuinely, actually, a straight male, as Jesus Christ plainly manifested in his very person, life, and teachings.
Manhood comes directly from God's male person, womanhood comes directly from God's straight, or hetero orientation.
Man and wife in marriage are to directly follow this design and being of God.
See my other web site, GodIsAStraightMale.com for more detail on this issue.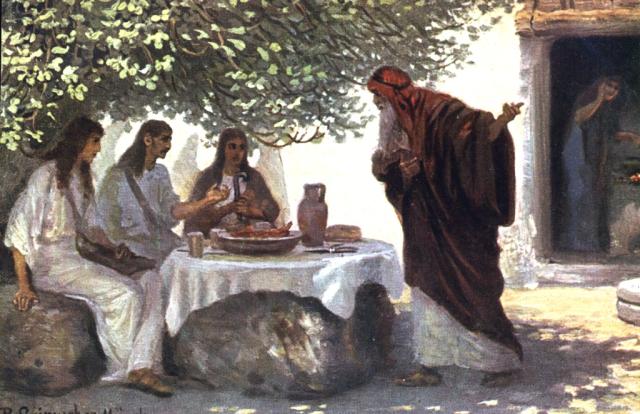 Sarah, wife of the great man of faith Abraham, correctly describes proper sexual intercourse for a woman with her husband as being pleasure. See Genesis 18:12 below. God fully intends it to be this way.
Genesis 18:
1 And the Lord appeared unto him in the plains of Mamre: and he sat in the tent door in the heat of the day;
2 And he lift up his eyes and looked, and, lo, three men stood by him: and when he saw them, he ran to meet them from the tent door, and bowed himself toward the ground,
Note: These visitors either included God himself, or the pre-incarnate Jesus Christ. It was a Divine visit.
3 And said, My Lord, if now I have found favour in thy sight, pass not away, I pray thee, from thy servant:
4 Let a little water, I pray you, be fetched, and wash your feet, and rest yourselves under the tree:
5 And I will fetch a morsel of bread, and comfort ye your hearts; after that ye shall pass on: for therefore are ye come to your servant. And they said, So do, as thou hast said.
6 And Abraham hastened into the tent unto Sarah, and said, Make ready quickly three measures of fine meal, knead it, and make cakes upon the hearth.
7 And Abraham ran unto the herd, and fetcht a calf tender and good, and gave it unto a young man; and he hasted to dress it.
8 And he took butter, and milk, and the calf which he had dressed, and set it before them; and he stood by them under the tree, and they did eat.
9 And they said unto him, Where is Sarah thy wife? And he said, Behold, in the tent.
10 And he said, I will certainly return unto thee according to the time of life; and, lo, Sarah thy wife shall have a son. And Sarah heard it in the tent door, which was behind him.
11 Now Abraham and Sarah were old and well stricken in age; and it ceased to be with Sarah after the manner of women.
12 Therefore Sarah laughed within herself, saying, After I am waxed old shall I have pleasure, my lord being old also?
13 And the Lord said unto Abraham, Wherefore did Sarah laugh, saying, Shall I of a surety bear a child, which am old?
14 Is any thing too hard for the Lord? At the time appointed I will return unto thee, according to the time of life, and Sarah shall have a son.
15 Then Sarah denied, saying, I laughed not; for she was afraid. And he said, Nay; but thou didst laugh.
16 And the men rose up from thence, and looked toward Sodom: and Abraham went with them to bring them on the way.
God made good on his promise in giving Abraham and Sarah a miracle baby, (Isaac) in their old age.
See my other page, Modern Bible Versions Trash the Stunning Miracle in Genesis 18, of Abraham and Sarah's Miracle Baby!

Male Circumcision - God ordered this for eight-day
old Israelite baby boys, not 12 year olds. Blood clotting factor and the immune system peak then.
Back to female genital mutilation, FGM, and then let me touch on the custom of male circumcision.
FGM, according to the articles has been made illegal in many countries.
France, apparently, has the best program against FGM with some 100 court convictions.
The U.S., has, I have read, a dismal program with apparently, just 1 measly conviction.
The articles indicate we MUST greatly raise public awareness of this whole issue, PLUS we must move much more vigorously with legislation and real enforcement.
What about the custom of male circumcision?
Is not this custom of male circumcision, mutilation of male genitalia, and can we justify it if we condemn FGM (female genital mutilation)? A very good question.
A search on this subject will show plenty of strong opinions both direction.
A major point to that must be made is that FGM involves surgical removal of the clitoris, the organ critically essential to a woman's sexual enjoyment and pleasure, whereas the foreskin removed in male circumcision is just a skin covering and its removal has no disadvantages, but does have beneficial hygiene benefits with regard to retarding the transmission of HIV, and perhaps other diseases.
From what I have read in the past, regarding the USA, about 80% of baby boys are circumcised.
Mom is on the spot when the nurse asks the question, and Mom decides TO circumcise 80% of the time, about.
She sees it as sexier, more beautiful, cleaner, etc.
In Europe it has been about 20%, but this could be growing with the growing Muslim population, who DO circumcise.
However, in Europe, and perhaps elsewhere, there has been some legislation banning circumcision.
But I understand exceptions have been sought for Jews and Muslims, etc., who both have strong religious traditions TO circumcise.
The Wikipedia article below notes very substantial medical advantage for circumcision in preventing the spread of, HIV, for example.
For details on the nuts, bolts, history, etc., see Wikipedia, Circumcision.
As Bible believers know, God specifically instituted circumcision of male Israelites. I show Genesis 17, later.
Circumcision is absolutely NOT required for Christians, although some may choose to do it for hygienic or cosmetic reasons.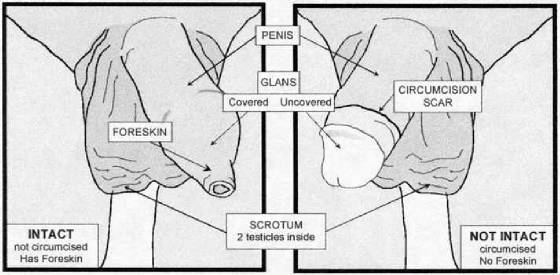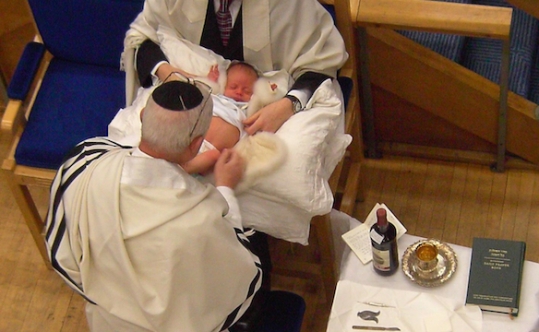 Genesis 17:
1 And when Abram was ninety years old and nine, the Lord appeared to Abram, and said unto him, I am the Almighty God; walk before me, and be thou perfect.
2 And I will make my covenant between me and thee, and will multiply thee exceedingly.
3 And Abram fell on his face: and God talked with him, saying,
4 As for me, behold, my covenant is with thee, and thou shalt be a father of many nations.
5 Neither shall thy name any more be called Abram, but thy name shall be Abraham; for a father of many nations have I made thee.
6 And I will make thee exceeding fruitful, and I will make nations of thee, and kings shall come out of thee.
7 And I will establish my covenant between me and thee and thy seed after thee in their generations for an everlasting covenant, to be a God unto thee, and to thy seed after thee.
8 And I will give unto thee, and to thy seed after thee, the land wherein thou art a stranger, all the land of Canaan, for an everlasting possession; and I will be their God.
9 And God said unto Abraham, Thou shalt keep my covenant therefore, thou, and thy seed after thee in their generations.
10 This is my covenant, which ye shall keep, between me and you and thy seed after thee; Every man child among you shall be circumcised.
11 And ye shall circumcise the flesh of your foreskin; and it shall be a token of the covenant betwixt me and you.
12 And he that is eight days old shall be circumcised among you, every man child in your generations, he that is born in the house, or bought with money of any stranger, which is not of thy seed.
13 He that is born in thy house, and he that is bought with thy money, must needs be circumcised: and my covenant shall be in your flesh for an everlasting covenant.
14 And the uncircumcised man child whose flesh of his foreskin is not circumcised, that soul shall be cut off from his people; he hath broken my covenant.
15 And God said unto Abraham, As for Sarai thy wife, thou shalt not call her name Sarai, but Sarah shall her name be.
16 And I will bless her, and give thee a son also of her: yea, I will bless her, and she shall be a mother of nations; kings of people shall be of her.
17 Then Abraham fell upon his face, and laughed, and said in his heart, Shall a child be born unto him that is an hundred years old? and shall Sarah, that is ninety years old, bear?
18 And Abraham said unto God, O that Ishmael might live before thee!
19 And God said, Sarah thy wife shall bear thee a son indeed; and thou shalt call his name Isaac: and I will establish my covenant with him for an everlasting covenant, and with his seed after him.
20 And as for Ishmael, I have heard thee: Behold, I have blessed him, and will make him fruitful, and will multiply him exceedingly; twelve princes shall he beget, and I will make him a great nation.
21 But my covenant will I establish with Isaac, which Sarah shall bear unto thee at this set time in the next year.
22 And he left off talking with him, and God went up from Abraham.
23 And Abraham took Ishmael his son, and all that were born in his house, and all that were bought with his money, every male among the men of Abraham's house; and circumcised the flesh of their foreskin in the selfsame day, as God had said unto him.
24 And Abraham was ninety years old and nine, when he was circumcised in the flesh of his foreskin.
25 And Ishmael his son was thirteen years old, when he was circumcised in the flesh of his foreskin.
26 In the selfsame day was Abraham circumcised, and Ishmael his son.
27 And all the men of his house, born in the house, and bought with money of the stranger, were circumcised with him.